The pandemic posed a challenge for teachers — learning new technology, keeping tabs on remote students and teaching behind a screen.
On Thursday, they were recognized for their hard work and persistence during that stressful time. 
The Greater New Braunfels Chamber of Commerce and the Business-Education Partnership presented the "Teachers of the Year" awards for both 2020 and 2021.
Last year's luncheon was canceled because of the pandemic.
Districts and schools represented were Comal ISD, New Braunfels ISD, Marion ISD, Navarro ISD, Seguin ISD, New Braunfels Christian Academy and Premier High School of New Braunfels. 
NBISD 2020 Teacher of the Year, Veramendi Elementary librarian Melanie Bowen, said it is a good feeling not only for herself but to recognize all the teachers who worked hard during a difficult time.
"We've been part of NBISD for quite a long time so to have that special honor to represent a district that we really enjoy is an honor," Bowen said. "We had to figure out how to do some things differently to teach and connect with students."
Comal ISD 2021 Secondary Teacher of the Year Shalonda Davis, who teaches forensic science at Canyon Lake High School, said the past year was different but she felt the support of the district.
"In this past year we've had nothing but support and the students are wonderful and I'm super honored and blessed to receive this award," Davis said. "We had so much support from the district and other coworkers, it's a blessing to have that support and be able to
function. We worked together as a team, that's what really matters."
Communities in Schools of South Central Texas was also recognized for two of its on-site coordinators who work with at-risk students to make sure they stay in school.
On-site coordinators Ketzel Jefferson Van Dusen and Moises Parra delivered food to front porches of students' families, checked in on their remote work and supported them emotionally.
"A lot of the work last year was re-engaging students who were remote or not participating," Van Dusen said. "As soon as they returned to school we were holding them accountable and re-integrating them back to school and supporting their emotional needs. A lot of students had a lot of loss like family members who got sick or passed away or lost their jobs."
Parra works at Nixon-Smiley Middle School in Nixon. 
He said teachers and students experienced high anxiety during the pandemic, juggling remote learning and personal trauma. 
He said Communities in Schools came together and powered through to be there for them.
"It's surprising yet I'm honored just because it represents what everyone else is doing — especially, this past year," Parra said. "I was really happy and honored that Nixon got recognized, it shows the work middle school is doing."
Sponsors included CEMEX materials industry, Los Gallos Taco House and Raise Your Hand Texas, a nonprofit which provides education grants. 
Mayor Rusty Brockman and city and county leaders as well as a representative from Sen. Donna Campbell's office attended.
Each teacher received a letter from her office congratulating them.
National and international motivational speaker Jill White guest spoke and talked about the importance of an impactful teacher in a student's life.
White said teachers are "changing the world" and "changing it for good" with the way they interact and engage with students to inspire them.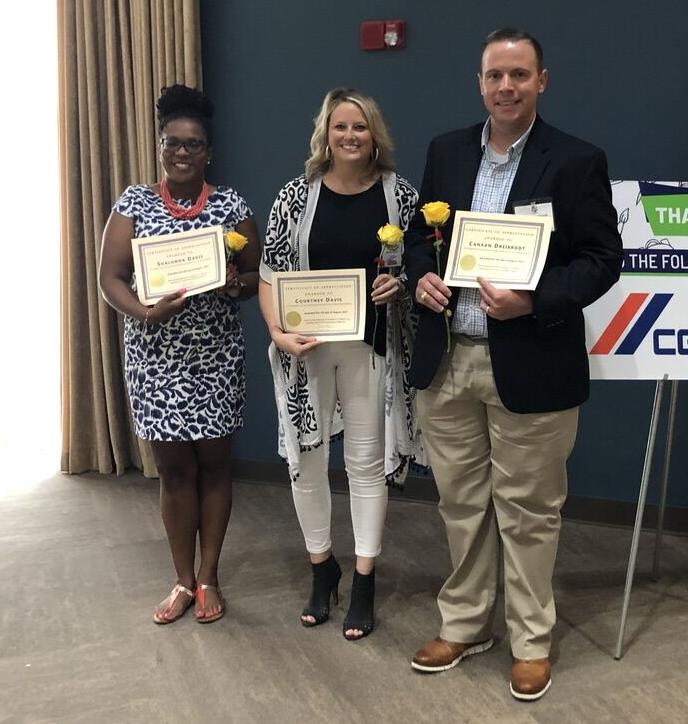 "We all can look back and say 'This is my favorite subject, and I know my favorite teacher at my school because they taught that subject,'" White said. "What a powerhouse you are."
Without teachers, the next generation would not explore and learn, she said. 
"You light that spark," White said. "And when things are dark, one little light is so powerful. You ignite that curiosity because curiosity is the engine of all achievement." 
Ending her speech, she gave teachers an inspiring parting message.
"I just want to say two things: Go out and do good," White said. "And secondly, inspire your students to find the good in the world. There's a lot of it there and inspire them to do that."
Davis said her teaching philosophy is to always "put kids first." 
"As a classroom teacher I'm finding how every child learns and meeting every child where they are," she said. "And challenging them even when they don't want to be challenged and they learn to embrace that."
TEACHERS OF THE YEAR
Comal ISD
2020 Elementary – Jessica Coleman
2020 Secondary – Canaan Dreibrodt
2021 Elementary – Courtney Davis
2021 Secondary – Shalonda Davis
Communities in Schools of South Central Texas
2020 CIS Pacesetter of the Year – Ketzel Jefferson Van Dusen
2021 CIS Pacesetter of the Year – Moises Parra
Marion ISD
2020 Primary (Krueger Campus) – Jennifer Hunter
2020 Primary (Karrer Campus) – Julie Schultze
2020 Middle – Valerie Stoddard
202 High School – Jesus Galvan
2021 Primary Teacher (Krueger Campus) – Taylor Limberg
2021 Middle School – Jo Randolph
2021 High School – Cliff Hill
Navarro ISD 
2020 Elementary – Charlotte Trapp
2020 Intermediate – Celeste Nored
2020 Junior High – Jennifer Leal
2021 Intermediate – Jennifer Mulvaney
2021 High School – Sarah Haltom
2021 High School – Michael Woerndel
New Braunfels Christian Academy 
2021 Elementary – Cari Garner
2021 Middle – Cindy Scobee
2021 High School – Sara Batcheler
2021 High School – Sheila VanRyswyk
New Braunfels ISD
2021 Elementary – Melanie Bowen
2020 Secondary – Kari Cooper
2021 Elementary – Melissa Garffer
2021 Secondary – Kayle Arlaus
Premier High School of New Braunfels
2020 Teacher of the Year – Tanya Marroquin
2021 Teacher of the Year – Tony Whiteside
Seguin ISD
2020 Elementary – Katie Chabot
2020 Secondary – Tommie Jackson
St. John Paul II Catholic High School
2021 Teacher of the Year – Gary Fagan